By Nina Richmond                                                                          2014-04-02       
WHALE WATCHING – A DREAM COME TRUE & HOW WHALE VOMIT CAN MAKE YOU THE LUCKIEST PERSON ALIVE
I
n this post:
World class whale watching tours
How whale vomit can make you rich
Listen to a humpback whale song
The worlds loneliest whale
A marine life paradise
In a previous blog post I listed a number of questions that often accompany the thought of moving to a new area, the following blog post is indeed partly an answer to the question: what activities does the area offer. ENJOY!
WORLD CLASS WHALE WATCHING TOURS
Whale Watching off of the coast of Cabo San Lucas should be on everyone's bucket list! We have some of the best whale watching tours in the world, which offers you close encounters with a number of different whale species. Clink on the following link to see a video, by Peak Travels, with our friend Abbie Moyer Sloan who is a biologist and tour guide for Whale Watch Cabo. Should this be on your bucket list? Take a look and judge for yourself:  WHALE WATCHING IN CABO SAN LUCAS, this video is created by Peak Travels.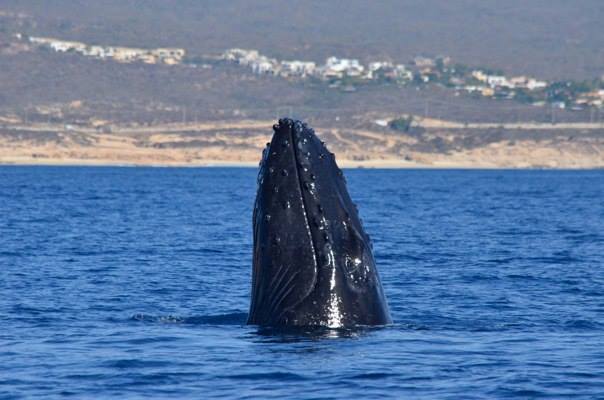 The Whale Watching Season in Cabo
Whale watch Cabo tells us: "The Cabo San Lucas whale watching season begins in December and ends mid to late April, depending on the variations in the Whales seasonal migration. Every year starting late November Humpback whales return to Los Cabos from their summer feeding grounds (California, British Columbia and Alaska) to mate and give birth. Gray whales also make the journey, pregnant mothers stopping in the northern Baja bays and lagoons to calve while many of the adult Gray whales continue down to Los Cabos arriving in January. During the Cabo San Lucas whale watching season we often see both Humpback Whales (December – April) and Gray Whales on the same tour (January through April).". "The whale watching season in Cabo San Lucas marks the arrival of many species of whales to their winter mating and birthing grounds. The Pacific coast of the Baja peninsula and the Sea of Cortez become home to thousands of whales for approximately 4 months every year.".
So why is Whale Watching so fantastic in this particular part of the world?
Whale watch cabo says: "Humpback and Gray Whales can be encountered with guaranteed regularity. During the mating season, whales are often observed performing magnificent feats of physical prowess to impress their potential mates.". "As the Humpbacks are here to mate we are often treated to an array of surface behaviors, mating competitions and playful baby Humpback Whales.".
Here's a photo of a Tail Slap, would it impress you?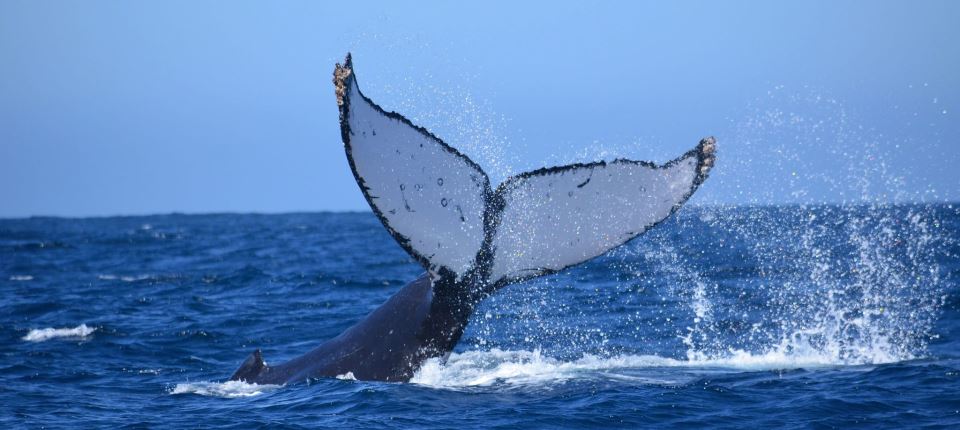 HOW WHALE VOMIT CAN MAKE YOU RICH
How's this for a fun fact: Sperm whale vomit is worth thousands of dollars per pound and up to $20 per gram. Why, you might ask? Who in his right mind would pay that much for whale spew? As a matter of fact, french perfume companies will. Does this mean that the sperm whale's vomit is exquisitely aromatic? No, it smells just as bad as it sounds. Then why would these perfume companies pay thousands of dollars for it? It has nothing to do with odor, it's actually used as a fixative. In other words it helps the perfume to stick to your skin. In Egypt they use it to scent cigarettes, candles and to make teas. Back in the days it was used as medicine for headaches. Is this starting to sound familiar? If it is maybe it's because Herman Melville mentioned it in his famous book: Moby Dick.
This so called vomit, more accurately refereed to as Ambergris but often called floating gold,  is not really vomit. Scott Sutherland describes it as "… a hard, waxy substance produced in the guts of sperm whales. It forms from bile and it is thought to stay in a whale's intestines to help it break up anything hard that it swallows (like an octopus beak). It is usually passed from the whale's body along with fecal matter, but in the case of larger chunks, the whale typically needs to vomit it out. This (along with the rather disgusting fecal smell it gives off at first) has led many to begin referring to it as "whale vomit" or "whale poop." But I doubt anyone would refer to one of their gallstones (about the closest analogy to ambergris our bodies can produce) as their vomit or poop. Besides, "floating gold" is probably a better nickname for ambergris anyway.". Discovery news explains that it is the salty water that gives it a sort of waxy texture.
The observant reader who remembers that I specifically wrote french perfume companies might be wondering whether or not they now need to check the ingredient list on all perfume bottles (if there is one), or only on bottles from France? The answer to that question is that in many countries, the US for example, it is illegal to use ambergris due to the sperm whale being classified as an endangered species. Therefore it is mostly french companies that keep this floating gold in stock and are willing to "upchuck" the big bucks for it.
If it is so valuable it must mean that it is nearly impossible to find, right?! It seems to be more a case of people not knowing what they have in front of them then of it  nearly being impossible to find. "A British man hit this smelly jackpot" – is the headline of an article about a man who found a 6 pound lump of ambergris and is now possibly going to cash in close to 180'000 USD. Another one of these success stories, to be read about, is a couple in southern Australia. They could get as much as 300'000 USD for their finding.
For all of you who wants to get out there right now and look for it, but are wondering what it looks like, take a good look at this picture.  This is a picture of the British guy who got rich thanks to his dog who clearly has a nose for a deal. However I ask you to finish reading this post before you run off to borrow your neighbors dog.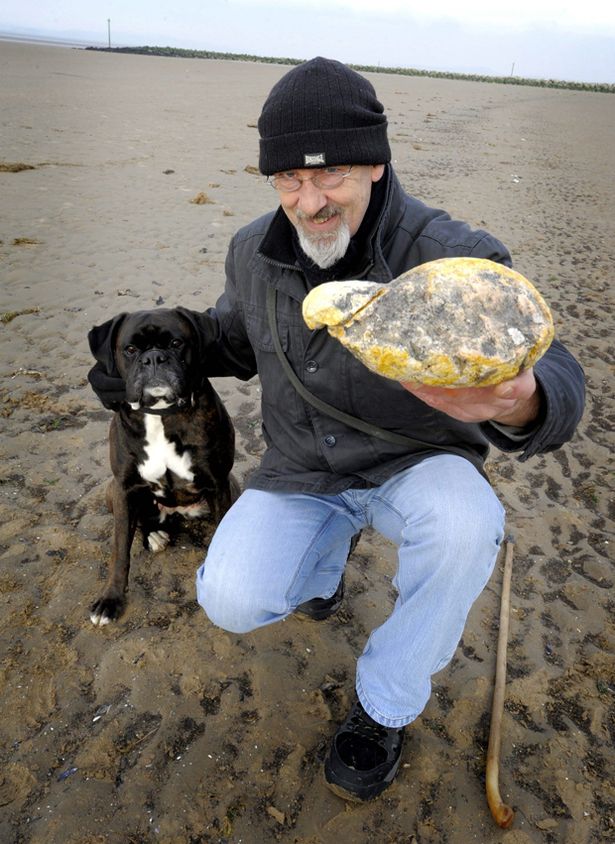 Something to think about: just, maybe a trip to Cabo will make you rich as these sperm whales do travel past here…
Believe it or not but whale spew is not the only vomit that pays the big bucks. There is more than one artist out there that sells paintings of their own disgorge, for example: Millie Brown Vomits To Create Art, and is supposedly admired by no other than Lady Gaga.
LISTEN TO A HUMPBACK WHALE SONG
(I recommend listening to the humpback whale song as you continue reading)
According to Whale Watch Cabo: "…both male and female Humpback whales do sing, the male is especially well recognized for its long and complex songs. The songs are believed to be primarily a method of attracting a suitable mate. Songs can be up to 20 minutes long and whales sing the same song in a given population, which changes over time."
THE WORLDS LONELIEST WHALE
The story about the worlds most lonesome whale started when the U.S. Navy gave whale researches access to their hydrophone array recordings in the North Pacific, meant for recording submarines. 1989 researcher William Watkins noticed a whale vocalizing at the range of 52 Hertz (which is why the whale is known as the "52 Hz Whale"). Now, this is highly remarkable considering that most whales vocalize at the range of 17-18 Hz – which by the way is too low for the human ear to pick up. The media and public was quick to take the story "of a whale that was swimming through the ocean, calling out on a frequency no other whale was using, never hearing a response." to heart. It quickly spread around the globe, what today would be refereed to as going viral.
What's the cause of this unusual range? Researches don't know yet, since there has been no visual of the whale – at least not any knowingly. Documentary maker Joshua Zeman went out on a quest to find the lonely whale. Did he find it? The documentary "52: The Search for the Loneliest Whale in the World" is expected to be released in 2015. This means that researches still don't know what species the 52 Hz whale belongs to. It could be a matter of a malformation but it is still believed to be healthy since it has been recorded all these years. Bruce Mate at Oregon State University and Hatfield Marine Science Center was chosen to lead the Joshua Zeman expedition. He says "I don't believe the animal we're looking for is a new species, or the dying out of an old species, or anything that dramatic. It is much more likely the animal might be the equivalent of an animal with a lisp, that it has — I won't call it a speech impediment, because it's probably understandable to other animals, but it's different.".
Is 52 Hz really swimming the worlds oceans all alone? Until there is an actual visual of the whale it is hard to say, hopefully the documentary will be able to give us the answer. At least I sure hope so, as I am anxious to find out.
"In other words, whether the team finds the 52 Hz whale, and whether it turns out to indeed be lonely or surrounded by companions, the story will have a happy ending. It will have provided a platform for scientists to learn more about the baleen whales of the North Pacific than they might otherwise have been able to. And while the whale may be lonely, its cries have not gone unheard.". 
A MARINE LIFE PARADISE
Book a trip before this season is over and cross it off your bucket list or make sure to book a trip for next season! Maybe you will be one of the few who catches a glimps of the 52 Hz whale. Whale Watch Cabo emphasizes that Cabo San Lucas is not only for the whale enthusiasts as it is also a paradise for the marine life lovers in general. Many other animals are frequently spotted such as: "… Dolphins, Orcas, Sea Lions, leaping Manta Rays, pelagic fish like Marlin and many species of Sea Birds (Frigates, Boobys, Cormorants, Osprey, Pelicans)".
Are you interested in Real Estate in Los Cabos, Baja California Sur, Mexico? We are a full-service Cabo real estate firm – a leading buyer, seller and developer agent for land, residential, commercial and business properties in the area. Visit our website for more information or stop by our office. We can offer you discount on whale watching tours and many other fun activities. Are you just on vacation visiting and need a rental, let us know as we can help out with that too.
Do you have a story to tell about visiting or living in Los Cabos, about Ambergris findings or the 52 Hz Whale? If so let us know – as we love to collect interesting stories.