When we plan to buy properties in a new region, let alone a new country, there is a lot to think about and many questions arise. Where do we want to buy our property? How much money do we want to spend? What is a wise investment for the future? These are all big and important questions to consider. However, big questions like these are often accompanied by a numerous smaller questions, which might also be of importance to us.  These can be questions like what's the average rain falls yearly, what activities does the area offer and will I enjoy the local cuisine? By no means do I attempt to answer all possible questions one might have right here and now, but I will answer one of them – namely the latter.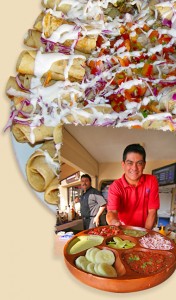 "Mexican gastronomy is one of only two cuisines declared by UNESCO as a world intangible cultural heritage." (UNESCO).
UNESCO – United Nations Educational, Scientific and Cultural Organization. UNESCO was created to build lasting peace and "create holistic policies that are capable of addressing the social, environmental and economic dimensions of sustainable development." (UNESCO).
Intangible cultural heritage – what does that mean you might ask? It is also known as living heritage and among other things refers to practices and knowledge that's being transmitted from generation to generation, which provides communities with a sense of identity and promotes social well-being and creativity, while also generating income. The UNESCO convention for the safeguarding of the world's intangible cultural heritages aims to ensure that this living heritage endures.
So what is it about the Mexican gastronomy that's cause for this rare attention? The Mexican cuisine is more than just food "it expresses the identity of a people" and "ensures community cohesion".  The food is present "at birth and at death, at planting and at harvest" (UNESCO). It is mixing tradition and the future as well as creating new ways of sharing its flavors with the world. The Mexican cuisine "is shaping the worlds tastes" (Mexico Today).
Mexico is the fourth most mega diverse and top three most culturally diverse country in the world. These are two contributing factors to the outstanding Mexican cuisine which is "a melting pot of ancient knowledge and agricultural products" (UNESCO).
The base or so called trilogy of the Mexican cuisine consists of corn (maiz), beans (frijoles) and chili peppers (chiles) and is an important part of Mexican rituals and ceremonies as well as a communal diet. Nixtamalization is a cooking technique, which was invented in Mexico thousands of years ago, used to process corn. It is the basis for making Mexico's world famous tortillas, tamales and so much more. Nixtamalization makes the corn more easily digestible and adds nutrients. The chili is not just a fundamental flavor for the Mexican palate but plays an important part in the complete and balanced diet that the traditional Mexican food has always been. The chili pepper aids nutrition by making it easier for the body to digest the protein in both corn and beans.
Another celebrity on the food stage, we have Mexico to thank for, is tacos. According to Jeffrey M. Pilcher, who is a professor of history at the University of Minnesota, tacos was most likely invented during the 18th century by Mexican silver miners. In silver mines the word taco is a small explosive charge used to excavate the ore. Taco was later reinvented by the Mexican Americans and mass-marketed by Taco Bell's own Glen Bell (Smithsonian).
It is safe to say that when it comes to food Mexico is a great country to be in!  This is not only due to the flavors that have the world spell bound, for example in most supermarkets in Sweden you can find a whole aisle dedicated solely to the ingredients necessary for recurrent tacos dinners, but also for its ways of bringing a community together and optimizing the nutritional value of the different comestibles. This is why UNESCO feels the Mexican gastronomy worthy of its protection and also one of many reasons why we think Mexico is the place to be. Why not come over here and experience it firsthand. We know everything you need to know about real estate in the Los Cabo region in Baja California Sur and we would gladly recommend a good cooking class in the area if you want to learn more about the ins and outs of the Mexican gastronomy.
Contact:
Sources:
UNESCO
http://bit.ly/Traditional-Mexican-cuisine-bircabo
http://bit.ly/Intangible-Cultural-Heritage-bircabo
http://bit.ly/Traditional-Mexican-Cuisine-Video-bircabo
MEXICO TODAY
http://bit.ly/Mexican-Gastronomy-Video-bircabo
SMITHSONIAN
For further reading:
http://bit.ly/Planet-Taco-bircabo