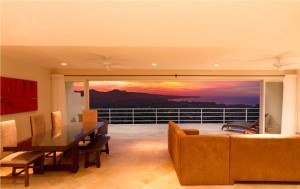 If you are looking for some of the best Cabo San Lucas real estate, check out Las Cascadas de Pedregal condos. Well constructed, ADA compliant with some of the best views of the Sea of Cortez and the bay and city of Cabo San Lucas. Very close to town and the marina yet in the private gated community of the Pedregal de Cabo San Lucas with direct access to town, and one of the most beautiful, semi-private beaches in Los Cabos. Las Cascadas offers 1, 2, 3, 4, and 6 bedroom condo options.
Wake up to a sunrise out of the Sea of Cortez, gaze out in the day at the blue bay of Cabo and all the activities it provides and fall asleep to the city lights or the moon over the Bahia de Cabo San Lucas.
We have all heard that when buying real estate, it is location, location, location. Well when it comes to Cabo San Lucas real estate, this is an irreplaceable location. This quiet private residential community is bordered on one side by nearly a mile of coast line and the opposite side by the city and marina of Cabo San Lucas. There is no other residential real estate in Cabo San Lucas that will ever have the same. The lands are gone! Las Cascadas de Pedregal is truly among the best of Cabo San Lucas real estate.
For more info on this property contact; don@bircabo.com or go to www.bircabo.com