Why hire a real estate agent to sell your house instead of doing it yourself? This is indeed a valid question that some people have, so I now want to summarize the key reasons we, and many others with us, see to hire an agent. I want to clarify that it has been hard for me to keep this short and simple because there seems to be so much I want to say.  I have however done my best to untangle this multicolored yarn of tangled thoughts and stick with only the red thread and what is most important. 
Top 10 reasons to hire a real estate agent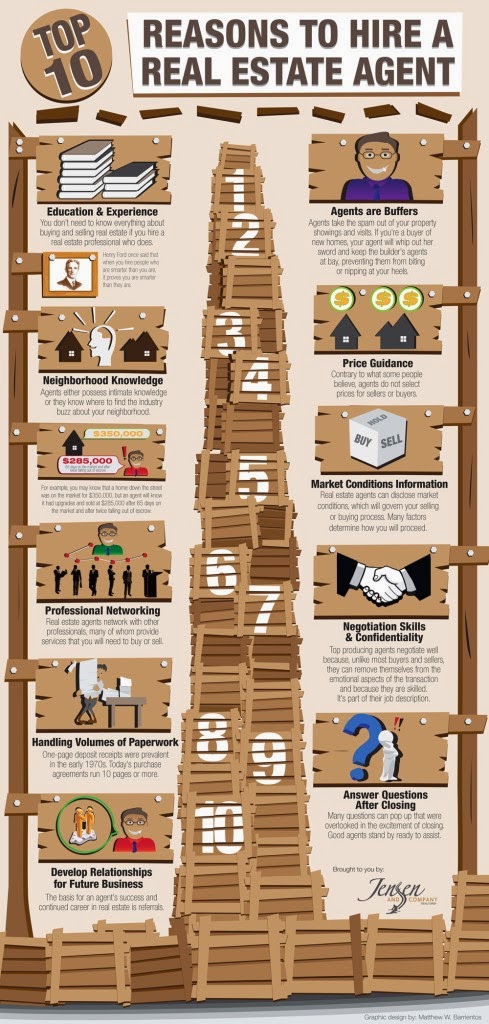 Selling a property without a real estate agent
When a house is sold by the owner rather than by a real estate agent a term often used is For Sale By Owner – FSBO  (pronounced fizzbo). The main reason people decide to put a house up for sale by the owner is that they don't want to pay a commission fee to the agent. According to the National Association of Realtors (NAR):
"Only 9 percent of today's sellers are FSBO sellers, and among those who chose the FSBO route, 40 percent knew the buyer who bought their home. Among those who did not previously know the buyer of the home, 18 percent of those were contacted directly by the buyer to purchase the home. Taking these factors into account, the FSBO market of sellers who sold their home without knowing the buyer, and those who were not directly contacted by a buyer, is significantly smaller." (http://bit.ly/1lbmyKI).
Furthermore statistics from NAR tells us that the median price for a property sold using an agent in 2007 & 2008 was $240,000 meanwhile the median price for properties sold by FSBO's was $180,000. That is $60,000 less than when going through a Realtor! When you count on, for example, a 6 percent commission for the assisting agent you still end up with $45,600 more than the ones deciding to sell the property themselves.
Here are some reasons why FSBO's risk ending up losing money by selling the property themselves:
Less exposure – MLS (Multiple Listing Search) is what most house hunters use to narrow down their searches. This is a database in which you get listed through a Realtor. Access to MLS is a service that cost our own agents $600 a year (as a clients you don't pay for this), a cost you otherwise have to add to the $45,600 that the median FSBO already lost by not using an agent. Even if you would use MLS yourself it is not as easy as just listing your property and leaving it at that. "Access is only the start", says our own real estate agent Gary Denny. "You can also go online and get French lessons.". In other words, it takes years for a successful Realtor to learn how to take full advantage of MLS and learn the numbers needed. Because MLS is the most important platform and this blog post runs a risk of being without end I will stop at that, but the agents wont – they will provide you with exposure in many more terrains than that of MLS. 
Less experienced and less informed negotiators – Are you a great negotiator? Do you for example successfully bargain with street vendors when travelling in new countries? If you are one of many who feel really uncomfortable bargaining, even over the smallest thing, FSBO is probably not for you. If you however are one of them who most often leave with a feeling of accomplishment and having made a good deal – imagine then if you spoke the local language and had spent years in that country studying the value of that very product. Could you have made an ever better deal if you actually knew the lowest price that product is normally sold for on that street? Imagine then if you also knew the lowest prices in that whole area, not just that street or that city, but also the neighboring cities and the best time to buy. Then on top of that would knowing where it could be sold for the highest price help you make an even wiser decision on whether or not to buy this product? I am sure you understand where I am going with this. Even if you are a really good negotiator I dare to say that most non-agents do not spend the time learning about the products and the market that our agents do. The process of selling property does not only need great negotiating skills when agreeing on the closing price as many might think, many other items too need negotiating. Don't ask yourself solely if you have the skills for it but also ask yourself if you have the insight needed and if you speak the language of real estate negotiation.
Too emotionally connected – Can you stay objective enough when it is something as personal as a house full of your own memories? If priced wrong to begin with do you have the time it might take you to realize this and decide on a new price? Gary is selling his house in the states so I asked him, being an agent, if he's going to set the price himself. He said: "absolutely not!". He's hiring an agent working in the area in which the house is located. Why? Firstly he doesn't have the time to analyze the local market and secondly the risk of him underselling is too great, he says. When someone who is working full-time as a real estate agent won't even try and sell his own real estate by himself it might be worth thinking twice about it? 
Less time –  "Nearly anyone is smart enough to be able to spend 50 hours a week watching what is selling and what isn't. Smart enough to go through countless MLS updates (both per online and in person) but do they have the time? When doctors, lawyers, CPA's and engineers need to sell they call a Realtor", Gary points out.
So how time consuming is it to sell a house? Can it really be that bad? Well, it's all relative of course but there is no doubt a lot that needs doing. Just to mention some of it, you need to:
Assess the salebility and condition of your property 
Find & fix any problems that might be an issue for a buyer
Research the local market
Monitor and understand the latest news regarding loans and mortgage rates
Decide on an asking price
Get the house ready for sale – declutter, clean & stage in the most appealing manner 
Make and budget a marketing plan
List and market the property
Confirm any potential buyers financial qualifications
Negotiate the terms for selling 
Accept an offer
Prepare and handle the paper work for closing – all legal documents, insurance, lien, loan and mortgage, title insurer, property records, building permits for the appraiser as well as receipts, disclosure documents, and more. 
Handle any issues that comes up after closing
These are all things that an agent will help you to unload off of your shoulders and often already busy schedule.
Regarding the forms needed to close a sale – browsing on the internet I find a lot of websites that are trying to convince people that it really isn't all that complicated. I ask Gary who changes his position as to mark the importance of what he's going to say next: "The forms are very complicated. In some markets as many as 1 in 9 transactions end in at least the threat of a lawsuit. These forms are the result of ongoing lawsuits, state lawmakers whims and ever changing public opinions. Buyers love having a professional between them and a seller, in case of any issues such as radon, mold, measurements, termites, permits, usage, inspections, repairs, title and more comes up". He also stresses that a property that is for sale by owner often makes buyers wonder what the real reason behind that decision is – what are they hiding? It is unfortunately also very common that FSBO's, trying to save money on commission, find it overwhelming to do the work themselves and end up hiring an agent in the end anyway. That is of course not the way to save money.


On top of all this one might have lots to prepare as a buyer of another property and then the move to a potential new home. Of course regardless of any of this you can choose to do it yourself. If you have the time to learn all things necessary, the devotion to the tasks at hand and are willing to take the risk that the selling price is lower then what an agent could have gotten you.  In a way it is like cooking a Turducken, which is a turkey stuffed with a duck that's stuffed with a chicken. To do it justice you should not just be good at cooking you need to be great at it. I can't help but to think that if I was to sell my own property right now I would have enough on my plate with just preparing and cooking a turkey. Would I really want to stuff it with an even more time consuming and stressful duck stuffed with yet another time consuming and skills demanding chicken? Especially since I might risk being unsuccessful, considering I'm not a trained cook, not even a hobby cook. No, I say it is worth the investment to pay for my turducken at a restaurant, where it is prepared and cooked by a master chef. Then I know I can sit down, relax and just enjoy a juicy turducken done justice.
So why should you hire a real estate agent?
To sum up this post I will use one of my favorite Gary-quotes: "As long as seller wants the very most they can net – real estate agents will net-work".
Sources:
Gary Denny: gary@bircabo.com
http://bit.ly/1lbmyKI
http://bit.ly/OGKmZ9
http://bit.ly/1dr2G3K
http://bit.ly/Q9NOfY
Pic 1: http://bit.ly/Hire_a_RE_agent
Pic 2: http://bit.ly/realestatehumor