This 9BR/9BA Villa sleeps 19, great ocean view, 6,800 sq. feet of space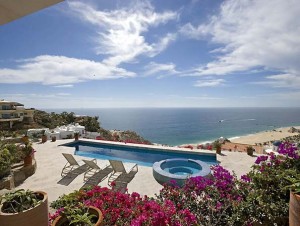 Perched at the summit of the upscale Pedregal community, this splendid Villa offers panoramic views of the ocean and white sandy beach below.   Enjoy them while taking a few laps in the large swimming pool, soaking in the jacuzzi, or just sunning yourself on the beautifully landscaped patio.
Price starts at $1,360 U.S. a night.
For more information, please contact Roger Cicéron at roger@bircabo.com